GenTech Gen III V8 Stand-A-Lone Engines are available in 4.8L ( 294 cu. In. ), 5.3L ( 325 cu. In. ), and 6.0L ( 364 cu. In. ). These Engines have gained popularity due to the emission controls required when performing a engine conversion in some vehicles.

GEN III engines are the latest in GM engine technology and include "self destruct" prevention built in the PCM. On-Board Diagnostics II (OBD II) is another feature. Our Engine Harness is OBD II compliant. This affords the ability to retrieve "Diagnostic Trouble Codes" (DTC) via the DTC connector and integral SES (Service Engine Soon) light. This feature takes the "guess work" out of trouble shooting. Engine Tuning and Scanning are also done using the DTC connector.. Aftermarket Tuners and Scanners plug right in. The PCM (Power Control Module) is programmed with a "Learn Mode Program" and is part of the OBD II diagnostics. This allows the PCM to "LEARN " your driving habits and calculate accordingly….

STANDARD ENGINE PACKAGE INCLUDES:
Power Steering Pump and Pulley
Exhaust Manifolds (Rear Dump)
Wiring Harness and fuse block
ECM (Engine Control Module)
Oil and Filter
Electronic Throttle (Drive-By-Wire)
Labels for Hook-ups
Ground Strap and Cable
Starter
Alternator (130 Amp)
Serpentine Drive Belt
Radiator Block Vent Kit
Water Pump
Flex plate
Deep Sump Oil Pan (6.5 Quarts)
O2 sensors and engine sensors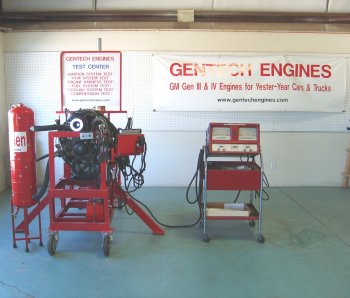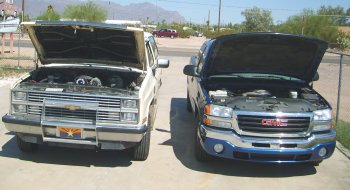 Both have the same Engine (4.8L) and Transmission (4L60E)and get more than 20 MPG at 65 MPH.

Typical Installation Pictures

ENGINE &nbsp HP &nbsp &nbsp TORQUE &nbsp &nbsp WEIGHT &nbsp &nbsp PRICING

4.8L V8 &nbsp &nbsp 285 &nbsp &nbsp &nbsp &nbsp 300 &nbsp &nbsp &nbsp &nbsp &nbsp &nbsp 520 &nbsp &nbsp &nbsp &nbsp $2,150.00
5.3L V8 &nbsp 295 &nbsp &nbsp 350 &nbsp &nbsp &nbsp 520 &nbsp &nbsp $2,495.00
6.0L V8 &nbsp 300 &nbsp &nbsp 400 &nbsp &nbsp &nbsp 550 &nbsp &nbsp CALL......
6.0L V8 &nbsp 345 &nbsp &nbsp 430 &nbsp &nbsp &nbsp 550 &nbsp &nbsp CALL......